The Alf Dashboard Driver is an item released in 2008.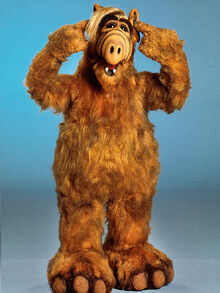 Description
Edit
Alf is standing on a black base covered in stars. When activated via push button, or motion of the car, Alf says phrases from the 1980s sitcom ALF, here are a few of his 12 phrases:
-Let's have a snack now, we'll get friendly later, you got a cat?
-Hey, ever hear of a turn signal?!
-Come on lady, this ain't a parade!
-This place that we're going, have you been there in real life, or just in your imagination?
-Let me know when this gets irritating. (Does the Melmacian Mating Call).
-How long do you preheat these things for a cat?
-He was sold at Walmart, Target, and Publix for $9.99
-Canada got a completely different version, it's based off the animated series, and only says 6 phrases instead of 12, and he was only sold at Walmart Canada for $14.99.
Community content is available under
CC-BY-SA
unless otherwise noted.