The animated talking Bullwinkle J Moose was an item made by Gemmy in 2000, along with the Animated talking Rocky the Flying Squirrel to celebrate the release of the movie, "The Adventures of Rocky and Bullwinkle".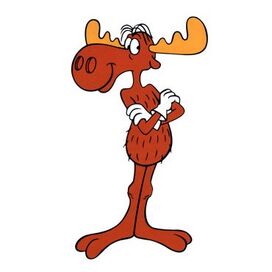 Description
Edit
Bullwinkle is standing on a grassy base, next to an oak tree, and the button is a yellow flower. When activated, he turns his head and moves his mouth as he says 20 phrases, 10 original and 10 from the movie, and sings his own version of "Gettin' Jiggy Wit it".
-Despite the movie doing poor in the theaters, this item sold surprisingly well.
-He was sold at Walmart and K-B Toys for $14.99
-Despite rumors, he was not part of the Pop Culture series, despite being similar to the Animated Secret Squirrel
Community content is available under
CC-BY-SA
unless otherwise noted.