The Big Head Elmo Is An Animated Toy Made In 2001 And Is Based On The Sesame Street Character 'Elmo'. He Is Standing On A Red Base With A Yellow Button. When Activaded, He Swings His Hips And Arms, Turns His Head, Moves His Mouth, As He Talks And Says Phrases From The Tyco And Fisher Price Elmo Toys, Followed By The Elmo's World Theme Song.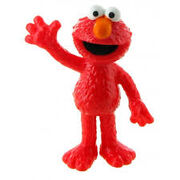 A Christmas Version Was Made. Elmo Is Wearing An Elf Costume, And Stands On The Same Green Base As The Animated Holiday Elmo. He Says Phrases From The Sesame Street Special "Elmo Saves Christmas", And Sings "Jingle Bells".
Elmo Is The One Of The 2001-2002 Big Heads Not To Have Light Up Eyes, Since The Big Head Witch, Big Head Santa, And The Big Heads From The Hey Arnold! Series.
Released: 2002, 2003, 2004, 2005, 2006, 2007, 2008.
Discounted: 2009.
New To Exist: 2010, 2011, 2012, 2013, 2014, 2015, 2016, 2017, 2018, 2019, 2020.
The Soundtrack Is The 2000-2009 Elmo's World Theme Wich Can Be Heard In The Video Right Here. The Christmas Version's Soundtrack Is In This Video
Community content is available under
CC-BY-SA
unless otherwise noted.