Christmas Light Spinning WALL-E Is An Item That Came Out In 2020 Made For The Christmas Season Of 2019.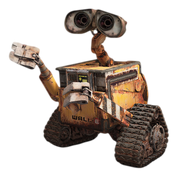 DescriptionEdit
He Is Holding A String Of Christmas Lights In His Right Hand. When You Squaze His Hand,  He Dances, And Spins The Christmas Lights As They Light Up In Different Colors While The Song From The Movie "First Date" Plays.
He Is The Only Snowflake Spinner Not To Wear Holiday Accents Since He Is A Robot.
Soundtrack Here: