Everlasting Summer is a series made in 2014 and remade in mid 2016, based off the virtual novel that was released in 2013.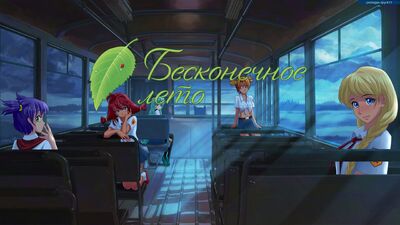 Items in the series
Edit
Each item says 5 phrases, and sings a song, each item also has a setting where they'll interact with the other campers. The later versions sing different song and have different phrases, the first song is the original song, the 2nd is from the 2016 version.
Semyon- His own version of "I Will Survive" - Closer
Slavya- What a Girl Wants - Dilemma
Lena- Somebody's Watching Me - No
Ulyana- Crazy Kids - Wild Ones
Alisa- I'll Getcha Good - Bang Bang
Miku- I think I'm Turning Japanese - World is Mine
Electronik- She Blinded Me with Science - Electric Avenue
Shurik- Mr Roboto - His own remix of "Rappers Delight"
Yulya- Stray Cat Strut - Her own version of "Zoot Suit Riot"
Olga Dmitrievna- As the Caissons go Rolling Along - Anaconda
Zhenya- Her own version of "Superfreak"- Me, Myself, and I
Viola- Bad Case of Loving You - Dear Future Husband
-The prototypes had a 3rd setting, where they played music from the virtual novel, each one would have played 6 songs: 5 unique to that pioneer, and this one: https://www.youtube.com/watch?v=AL-4pYzhsSg The reason this was removed was due to time restraints, however, the prototypes of Alisa, Zhenya, and Lena were accidently shipped to a CVS store. -The pioneers were sold at multiple stores for anywhere between $9.99-19.99
-The 2 adults and Yulya were sold only at CVS and Spencer Gifts for $12-99-$24.99
-Most of these items were mass produced, but Olga Dmitrievna, Yulya, Zhenya, and Viola, only 50,000 were made of each, making them rarer than the others.
-The first version of Saxophone Playing Nikki from the Dork Diaries Animated Prop accidentally would use the wireless feature to move and dance while the other pioneers were interacting, thus it was recalled an rereleased.
-These were only sold from Late April-Early August, to keep with the Summer theme.
Gallery
Community content is available under
CC-BY-SA
unless otherwise noted.