The Lifesize Yandere Chan was a prop made for Halloween in 2015, based off the game Yandere Simulator.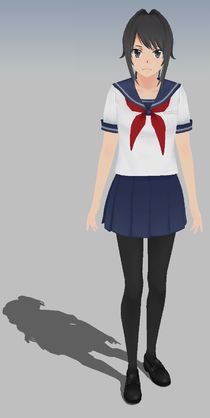 Description
Edit
She is wearing a blood soaked uniform, and is holding a bloodied knife in one hand, and the decapitated head of Senpai in the other. When activated, she slowly turns her head and body, moves her eyes as if she's looking around, and raises her arm with the knife, while the Halloween Theme plays (Same recording as the Lifesize Michael Myers, but without the breathing).
-There was a second version made, that wears a black uniform, and moves the exact same way, but says 12 phrases and has a moving mouth instead of the Halloween Theme.
-The first version was only sold at Spirit Halloween for $179.99, and she would have been seen in the Spirit Swamp Tours, where the Flaming Black Widow was standing.
-The second version was sold at Halloween Express for $169.99 and at Kmart for $199.99.
Community content is available under
CC-BY-SA
unless otherwise noted.