The Talking Animated Pikachu Plush is an item released by Gemmy in 1998 and remade in 2008, and once again in 2016 due to the success of Pokemon Go and part of the pop culture series.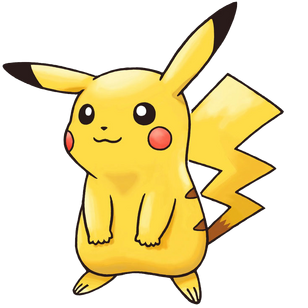 Description
Edit
When you press the button on his right hand, Pikachu's cheeks light up red and his ears and tail wiggle while he says his "Pika Pi" about 3 different times. The 2008 version is very similar to this, except he's skinnier and he also say "Pikachu" and "Pika Pika Chu", and the 2016 has very few changes, except they made the cheeks light up brighter and the speaker had better quality.
-Despite the basic design of the item, this was one of Gemmy's best sellers of all time, next to Billy Bass and Douglas Fir.
this is the very first pokemon item made by gemmy
-The 1998 version was sold at KB Toys for $9.99 and every Pokemon Center for $12.99, while the 2008 and 2016 version was a Pokemon Center exclusive, being sold at $15.99.
the reason Pikachu is from the pop culture series due to him being famous and being the main mascot of pokemon
Community content is available under
CC-BY-SA
unless otherwise noted.