The Valentine's Monkey was made in 2020. The monkey is a brown monkey with tan skin (including his ears, mouth, face, hands, and feet), and brown fur covering the monkey and it's tail. Its eyes are white. It holds a heart saying "You're the KING of my jungle!". The monkey has the same mechanism as the Tutti Frutti bunny from 2009, but instead of flapping its ears, it sways its tail while singing "Dance Monkey" by Tones and I.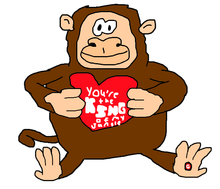 Where this item was sold:
Edit
This item was sold at the following stores:
Air Force Base in Texas
CVS pharmacy
Cracker Barrel (Frog version)
There are two variants: Valentine's Monkey, and Valentine's Frog. The Valentines Frog plays "Take me to the river" by Talking Heads.
There was originally a bear variant that would've released at Big Lots for 2019, but it got scrapped as a prototype.
Community content is available under
CC-BY-SA
unless otherwise noted.