The Zombie Head Spinning Juliet is a prop made in 2015, to promote the video game, Lollipop Chainsaw.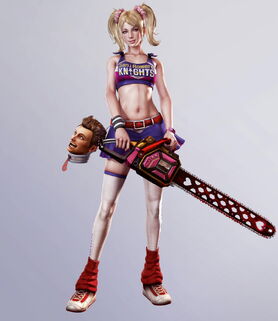 Description
Edit
She is holding her chainsaw in her right hand, and a chain holding 3 zombie heads in her left hand. When activated via push button or motion sensor, the chainsaw blade spins while she swings it up and down, she swings her hips, and spins the zombie heads while they light up red, as she sings "Bang Bang" (The official recording), and a spoof of "Bottoms Up".
-This was originally going to feature Nick (As seen in the picture, as a head).
-A very rare wireless remote control addon was made, that allowed you to control both her arms, and her hip swinging motion.
-She was sold for Halloween ar Walmart for $19.99
-A second version was made in 2017 that sings "Lollipop", "You Spin Me (Like a Record)", and "Cherry Bomb".
-The prototype sang "Thriller", and "Honey, I'm Good".
Community content is available under
CC-BY-SA
unless otherwise noted.